Read and Memorize the Quran

---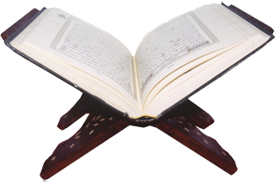 Learn how to read the Qur'an with proper pronunciation, applying the rules of Tajweed, using all authentic methods including Al Nuraniyah methods and other reading techniques.
Our programs and curriculum are suitable for children and adults that want to read and memorize the quran or gain an Ijaza certification in Quran.
Instructors and students use Skype to communicate. Download Skype.
View the Arabic Information Packet.
Qualified Instructors

---
All the instructors involved in the project are under supervision of engineer Zeinab Helmy Qutob.
Zeinab Helmy Qutob is a certified for Qira'a and Iqraa' of the Holy Qur'an, as narrated by Hafs upon 'Aasim from the way of As- Shatibiyah, with continuous Sanad connected to Prophet Muhammad (PBUH). She received her Ijaza by Sheikh Ahmad Abdul Aziz Al Zayat, the highest in Isnad among the Muslim's world Muqriee'n.
All of our instructors are highly qualified and certified (with Ijaza) with a Sanad connected to the Prophet (SAWS) or are graduates of the Institute of Qira'aat. Instructors are skilled in assisting students to memorize the Quran and handling various candidates and different age groups.